Keeping Your Project On Track
Alban Masonry takes our commitment to you and your building project seriously. It is our company's belief that one must work diligently and persistently to provide the highest degree of professional construction services possible to our customers. We have a proven track record of finishing projects on-time and within budget without cutting corners on quality or safety.  Our services are focused on three main areas:
Alban Masonry was established to be the premier construction provider for all K-12 schools in the Washington metropolitan area.
We have the equipment and experience necessary to get your educational institution completed on-time and within budget.
We are experts when it comes to the design and construction of almost any size or design of school. Our team has a track record that speaks for itself.
We have built a solid reputation in the construction industry for providing our clients with quality craftsmanship while meeting both the construction progress schedule and staying within our budget. We have established ourselves as one of the premier masonry contractors in the Washington metropolitan area due to our ability to meet strict deadlines, forming strong relationships with our clients, and providing superior knowledge and skill.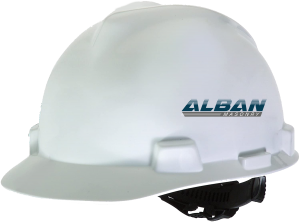 Our Commitment to Safety
Alban Masonry has made serious commitments toward the safety of all people and property on and off our job sites. Our company adheres to strict safety guidelines that incorporate safe practices into production activities using guidelines provided by the Occupational Safety and Health Administration, the Mason Contractors Association of America, and our insurance carrier. In addition to information gathered from outside sources, input from our experienced employees has proven highly valuable when considering the best policies to put in place.
We recognize that our employees are our most valuable resource, and we are committed to their safety and well-being. Although we have a fast-paced industry and many challenges before us, safe working environments are paramount. The execution of our safety program is an integral part of the planning and construction of every project.
Our Recent Work
We strive to ensure that you receive the highest quality of service and that work is done properly with attention to detail.